THE KIDS EXPLORE SHOW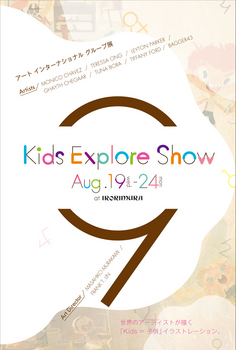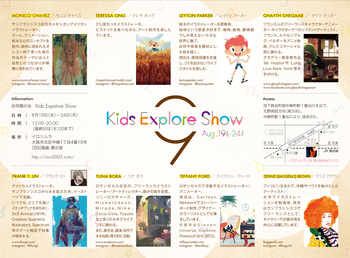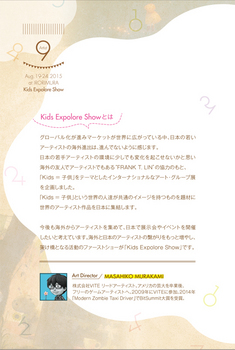 MONICO CHAVEZ
(モニコ•チャベス)アメリカ
TERESSA ONG
 (テレサ)シンガポール
LEYTON PARKER
 (レイトン•パーカー)アメリカ
GHAYTH CHEGAAR
 (ゲイツ•チャガー)フランス
Dennis (Bagger43) Brown
 (デニス•ブラウン)フィリピン
FRANK T. LIN
 (フランク•リン)アメリカ
TUNA BORA
 (ツナ•ボラ)アメリカ
TIFFANY FORD
(ティファニー•フォード)トルコ
2015/ 8/19 (水)〜 8/24(月)
12:00〜20:00(最終日は、18:00まで)
展示会場:89α
【作家プロフィール】MONICO CHAVEZ
 Mónico Chávez is a Mexican-American illustrator, living in San Francisco, creating concept art for games, animated film and children's books. He was born and raised in the deep woods of Oregon, and as such, his work often reflects on the complex connection between humans and nature. 
http://www.monicochavez.com/
TERESSA ONG
 Teressa is an often confused illustrator, who enjoys creating characters and other fun artsy things while munching on a lot of biscuits. 
http://chopsticksroad.tumblr.com/
LEYTON PARKER
 Hi there! I'm Leyton Parker, a children's book illustrator and adventurer. I make pictures about nature and exploring because I love this planet, the plants, the animals, the tiny things that you need a microscope to see−I just love discovering new things! I am also an advocate for environmental preservation and am currently working towards a zero waste lifestyle. 
http://leytonparker.com/
GHAYTH CHEGAAR
 Ghayth Chegar is a French artist who works as a Freelance Character Animator and Visual Development Artist on feature films and TV commercials for France, Luxembourg and Belgium. He has worked on such films as the Academy Award Winner, 'Mr. Hublot', as well as 'Long Live New York'.  
http://www.ghaythchegaar.com/
Dennis (Bagger43) Brown
Dennis (Bagger43) Brown, was born in Philippines in '83, raised in different parts of Asia (Japan, Okinawa, Hawaii, & Philippines), studied Illustration at Ringling College of Art & Design 2001-2005. Currently Dennis resides in San Francisco, freelancing full-time alongside putting his energy toward developing works for gallery shows and other self generated art projects.
Art/info can be viewed at: Bagger43.com
Instagram: @bags43
FRANK T. LIN
 Frank T. Lin (FTONGL) is an American illustrator, who hails from the East Bay, across the water from San Francisco. He's known to have his little black moleskine with him at all times. He has been featured in the 3x3 Annual, CMYK, Creative Quarterly, Illustrators, and Spectrum.  
http://www.ftongl.com/
TUNA BORA
 Tuna Bora is an award winning freelance illustrator/art director based in Los Angeles, via Istanbul/Turkey. Her clients include production houses such as Sony Pictures Animation, Mirada, Nickelodeon, Rock Paper Scissors, Pinterest, Buck, Psyop, Nexus, for brands suchs as Nike, Coca-Cola, and Toyota.
 She also works in print, gives guest lectures, and participates in gallery shows. Her independently published books are sold through select galleries worldwide.
 She is currently working as a production designer on Patrick Osborne's short film Pearl, at Google ATAP. 
http://www.tunabora.com/
TIFFANY FORD
 Tiffany Ford is a Los Angeles based illustrator, cartoonist, and animator. Currently working at Cartoon Network as a storyboard artist, she has worked as a designer and colorist. Projects include Steven Universe, Clarence, Powerpuff Girls (2013), as well as various projects in CN's shorts program. 
http://toffany.tumblr.com
【展示風景】